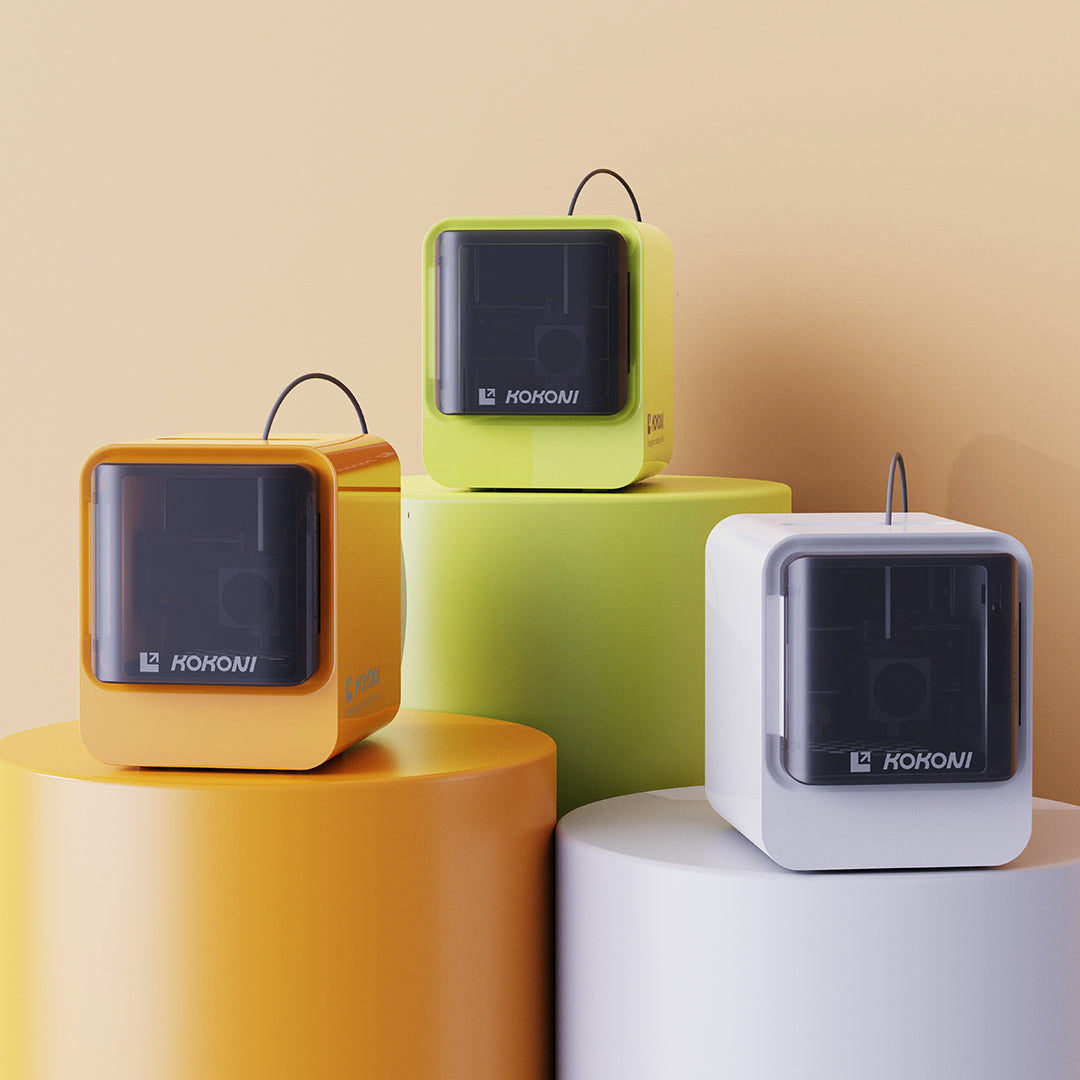 The Unveils of KOKONI EC2: An Affordable, Entry-Level Smart 3D Printer for Enthusiasts and Families
At KOKONI, we are delighted to announce the launch of the KOKONI EC2, an entry-level smart 3D printer designed to cater to the discerning needs of DIY enthusiasts and households with children. As a successor to the highly acclaimed EC1 model, the KOKONI EC2 combines accessibility and affordability with advanced features, thereby democratizing the art of 3D printing.
No-fuss and Hassle-free Operation: The KOKONI app facilitates a streamlined setup process, rendering leveling and assembly unnecessary. The EC2 is truly a plug-and-play device, ensuring a friction-less commencement of 3D printing endeavors.

Ever-renewing 3D Model Gallery: A vast repository of over 2000+ 3D models awaits users, with weekly updates introducing fresh content. This abundance of creative resources fosters limitless possibilities.

AI-Generated Models: KOKONI EC2 empowers users to create 3D models without the need for specialized software skills. From avatars to intricate objects, realize your design aspirations effortlessly.

Create Time-lapse and Monitor Printing Process: Equipped with a built-in 720p camera, the EC2 permits the creation of time-lapse videos, which can be effortlessly shared on popular social media platforms. Keep a watchful eye on your 3D printing process remotely.

Upgraded Printing Speed: The newly redesigned print head substantially enhances printing speed, enabling the swift production of simple models in under 20 minutes. Efficiency meets excellence.

Compact Size: The KOKONI EC2 boasts a sleek and space-saving form factor, ensuring a seamless integration into any home setting. Compact yet powerful, it defines versatility.
The EC2 grants access to a continually expanding 3D model gallery, boasting over 2000 diverse designs with weekly updates to keep creativity flowing. What truly sets the EC2 apart is its AI-generated design capabilities, empowering users to bring their unique concepts to life without the need for specialized software skills. A built-in 720p camera allows for time-lapse video creation, and it enables users to monitor the printing process remotely. Not to mention, the EC2's upgraded print head facilitates faster printing speeds, turning simple 3D models into reality in under 20 minutes. With its compact and versatile design, KOKONI EC2 is poised to redefine the 3D printing landscape, ensuring perfect integration into any home setting.
Discover a universe of creative possibilities with the KOKONI EC2. Featuring an extensive library of 2000+ 3D models and integrated AI-generated design capabilities, turning your vision into reality has never been more convenient.
KOKONI EC2 is seamlessly connected via the KOKONI 3D APP, a robust companion application that interfaces with the KOKONI EC2 printer and orchestrates a seamless, PC-free 3D printing experience. The app offers an array of features, including AI-generated models and simplified printing scenarios, complemented by an in-app model gallery for immediate printing, simplifying and enriching the user experience.
KOKONI 3D has a steadfast commitment to making 3D printing an accessible, enjoyable, and hassle-free pursuit for all. The KOKONI EC2 embodies this ethos, delivering an unparalleled blend of affordability, user-friendliness, and cutting-edge capabilities.
Experience the perfect blend of form and function with the award-winning KOKONI EC2. Its compact and stunning design not only enhances your space but has also earned it the prestigious IF Design Award.
KOKONI EC2 is now available at a retail price of US$349. Seize this opportunity to embark on your 3D printing odyssey with the KOKONI EC2. For further information and to place your order, click here.
KOKONI EC2 SPECIFICATIONS

Printing Technology

FDM/FFF

Physical Dimensions

189*302*231mm

Build Volume(W*D*H)

100*100*60mm

Nozzle Diameter

0.6 mm

Max Hot End Temperature

≤260℃

Printing Speed

100 mm/s (MAX)

Rated Voltage/Current

DC12V/5A

Rated Power

60W

Compatible File Format

STL/OBJ

Raw material of filament

PLA

Monitoring Camera

720P (Timelapse Supported)

Connection Method

Wi-Fi/Bluetooth