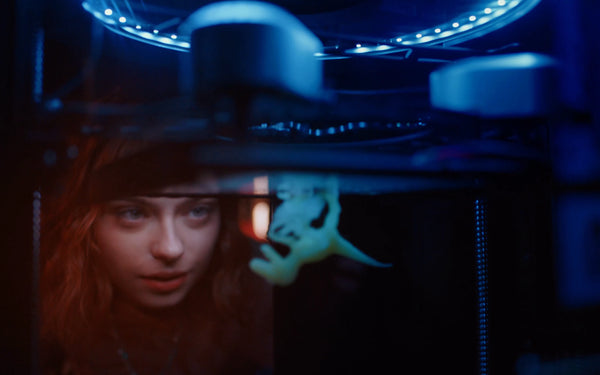 Innovative Upside-Down Design
Unlike most traditional 3D printers on the market, the KOKONI SOTA comes with a revolutionary upside-down design by securely mounting most moving parts such as motors and rails to the bottom base of the printer. By relevantly lowering the centre of gravity, this design achieves a close-to-zero vibration, effectively increasing the stability and printing speed. KOKONI SOTA guarantees innovation and high-quality printing.
Ultra-High Speed: 10×Faster Printing
With SOTA's unique design, the SOTA prints at a speed up to 600mm/s and acceleration of 21m/s², which is 10 times faster than conventional consumer-level 3D printers. KOKONI SOTA solves the pain point of time-consuming printing with a self-developed, high-speed stepper motor. Most of your desired models can be printed within an hour.
Multiple Colors & Multiple Materials
To bring more vivid printing, the SOTA offers 7-color synchronous printing up to 7 materials in one print, including PLA and PETG, during the printing process. SOTA unlocks your creativity and enhances your story telling with vivid colors. KOKONI SOTA is designed to accommodate bi-color filaments, with the addition of a filament tower that supports five more colors. This results in a versatile printing experience that can handle up to 7 colors and materials.
Ultra-Quiet<30 dB Performance
Printing at high speed can often result in disruptive noise. Equipped with KOKONI's self-developed intelligent motor control, the SOTA 3D printer can significantly reduce vibration. The noise level has been tested to be lower than 30dB in 1 meter, similar to the volume of quiet conversation. You can print even at night without worrying about the noise.
AI Prevents Error In Real-Time
KOKONI SOTA is equipped with an optical radar that can read um-level depth information so it can read nozzle height, calibrate the flow and more possibilities. Also, it is equipped with a closed-loop motor for the X/Y axis. which can encoder to recognize real-time positions and will compare them with the desired position. And the HD camera can prevent errors in real-time by comparing the printed parts with the 3D model.
Precision-Crafted & High-Ouality Print
KOKONI SOTA is equipped with a closed-loop motor for the X/Y axis to ensure printing accuracy. The motor is equipped with a magnetic encoder to recognize real-time positions and will compare them with the desired position. If errors occur, motors will adjust the error in real time. Furthermore, the motor will accurately drive the nozzle to its desired location if there is external interference or vibrations.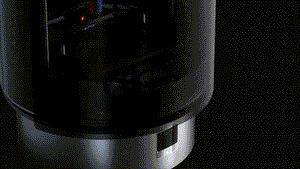 User Friendly & Easy to Use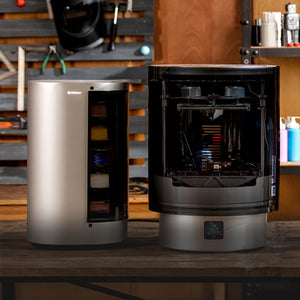 Fully Assembled
With its user-friendly design, KOKONI allows you to start printing right after unboxing the machine. It is an assembly-free printer, and users don't need to do any manual leveling neither.
Wireless Connection
The application provides a seamless and efficient cloud printing experience, eliminating the need for traditional slicing software.
One Click Cloud Printing
The App provides a seamless and efficient cloud printing experience, eliminating the need for traditional slicing software.
Sustainability & Low Power Consumption
The typical KOKONI SOTA operates at 240 Watts, with 76% less power consumption compared to other printers on the market. Additionally, KOKONI SOTA comes with a carbon filter that effectively eliminates VOCs. Giving users a safer environment to print.
Have questions about KOKONI SOTA?
What slicer does it use?

KOKONI APP and other software slicers that support G-code export include Superslicer, Prusaslicer, and Cura. The intelligence function can be fulfilled through the KOKONI Plugin.
Will you have a Prussian slicer and Cura profiles?

Yes, we do support both 3D printing software. We also developed an extension for Cura, supporting our smart functions such as camera monitoring, error detection, wireless printing, etc. We will try to update both the extension and our KOKONI3D software to optimize the user experience in the future, and continuously bring new functions to our printers.
Will it have exchangable buidtak?

The buildtak/printbed is exchangeable and will be sold on our official website and certified channel after the crowdfunding complete.
Why does KOKONI design SOTA as round size?

KOKONI SOTA series has a unique product design and ID, which stands out in the market and better fits in designers' spaces and home environments. Our product designer and engineer team worked closely together to bring the SOTA series to life.
What's the print size of this setup by chance?

Our printer has a maximum print size of 200 x 200 x 200mm (7.9 x 7.9 x 7.9 inches), which we believe is suitable for most printing needs. The machine itself measures 413 x 413 x 576mm (16.3 x 16.3 x 22.7 inches), making it a convenient size to place on a desk or workspace.
Does the upside-down orientation mean fewer supports?

Our upside-down technology innovation enables users to print with less support needed since the nozzle itself provides a certain level of support to the model.
What's the benefit of printing upside down?

KOKONI SOTA comes with a revolutionary upside-down innovation by securely mounting the most moving parts such as motors and rails to the bottom base of the printer, promising an extremely low center of gravity with a full metal structure. The inverted design brings exceptional stability with close-to-zero vibration.
Would it be able to 3D print in 7 colors at once? or 2 colors?

The KOKONI SOTA Combo allows for 7-color synchronous printing with different materials during printing, providing users with a creative journey that offers more versatility and flexibility. The KOKONI SOTA and KOKONI SOTA Lite, on the other hand, support 2-color filaments.
How the multi-color system will work.

KOKONI uses purge blocks during the multi-color printing process. KOKONI SOTA has a single nozzle but multiple extruders. During the filament change process, the extruder pulls out the old filament and pushes the new filament into the hot end. To ensure the model's colors remain accurate, some new material (flushing volume) is needed to clear out the old material. In KOKONI's design, the single extruder moves to a designated location during the filament change process, extrudes the remaining material, cuts it off, and then returns to the purge block, reducing the time it takes to switch filaments.
If there was a bed adhesion failure?

SOTA's original plate is heated and has a special coating. We have conducted numerous internal experiments with SOTA, printing small and full-sized 3D models to ensure that the items do not randomly detach during printing. We will soon release a video demonstrating the entire process.
Which filament materials does SOTA support?

KOKONI SOTA supports mainstream materials, including PLA, PETG, ABS, ASA, PET, PA, PC, and TPU. We hope that users can utilize different colors and materials to expand their creativity with SOTA.
What are the sizes of filament I can put in the SOTA and the filament tower?

We support 250g/500g/1KG filament spools for SOTA. The filament tower is designed to accommodate up to five standard-size 1KG filaments with a diameter of less than 230mm.
What is included in the SOTA Combo?

SOTA is the main machine which support 2-color printing and SOTA Combo is the combo of KOKONI's filament tower and SOTA, which support 7 color printing.
Do you get good results at 600 mm/s?

Usually, lower speed results in better and more precise printing quality. With SOTA, users can achieve faster and better results compared to some of the commercial machine in the market. Users can balance speed and quality, providing more options for different scenarios.
How many print heads are there?

KOKONI SOTA series has only one print head like most consumer-grade machines, over 80% of the printing scenario can be fulfilled within one printhead. KOKONI's R&D team worked hard to achieve multiple color/material printing with one single printhead.
Does it has a camera inside?

Yes, we have a camera inside to check the first layer. KOKONI also innovates the traditional plate/print bed to make it transparent, so users can look through the machine to examine the first layer. (thanks to our R&D team.