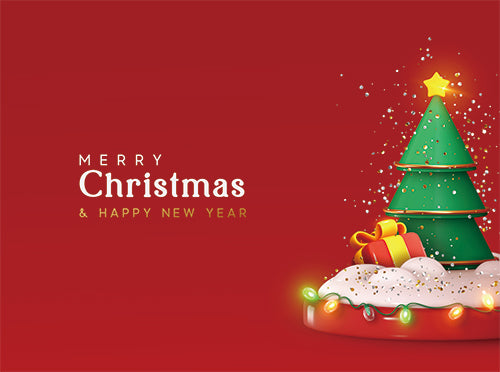 Christmas Greetings from KOKONI Team!
Happy holidays, KOKONI fans!
I hope this holiday season is filled with lots of cheer, joy, and all of your favorite things. I would like to extend our warm wishes for Christmas!
At this special time of the year, I want to reintroduce our stories to help you know better about us.
In 2020, a few colleagues/friends and I set the goal of turning our knowledge and research into real-life applications. We immediately set our sights on revolutionizing consumer-level 3D printers, knowing that they were a powerful and fascinating tool for bridging the digital and physical worlds. Our expertise and passion for 3D, along with our frustration with the clunky, hard-to-use 3D printers of that time, fueled our determination to revolutionize the industry.
"3D printers should be for everyone." We then set our destination. We want to provide the tools needed for people to tap into their creativity and bring their ideas to life, and ultimately, to empower people to unleash their endless creativity and make 3D printing a part of their lives.
To realize that great goal, we gathered talents. The expansion of the team from 10 to 100 didn't take a long time. We have gathered a group of technical talents from top universities, engineers with years of expertise in designing and mass-producing consumer electronics from Xiaomi and MiOT Ecosystem Companies, and experienced engineers who previously worked for 3D printing giants, including 3D Systems and Hewlett-Packard. We are confident in the expertise and capabilities of our team, and we believe that together we can make a significant impact in the 3D printing industry.
Earlier this year, we launched the 3D printer with instant AI 3D modeling. As our first product, we are grateful for your support and enthusiasm for our innovative 3D printing solutions. Now, all the crowdfunding orders have been delivered with tracking numbers available on your Indiegogo account. If you have placed an order during the InDemand stage and have not yet received your printer, you can expect to receive it in January. If you have any questions or concerns, our customer support team is always here to help. You are also welcomed to share your stories, your suggestions at this Reddit community.
The new year is a time for fresh beginnings and new opportunities. We look forward to continuing to innovate and deliver exceptional 3D printing solutions that help unleash your creativity and bring your ideas to life.
🎄Merry Christmas and happy holidays from KOKONI🎄